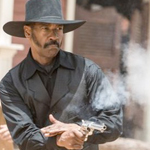 First of all, man, I am never gonna get that theme song out of my head. It's on the original and the three sequels and on this remake it's just on the end credits, other than some sly hints at its rhythm adapted to percussion and that exotic flute type thing that modern film composers love. But it's so catchy and I've heard it so many times this last week or two that it's burned onto my brain like what used to happen to TVs if you left it on a DVD menu all day. Thanks alot, Elmer Bernstein.
In Antoine Fuqua's THE MAGNIFICENT SEVEN, we have a small town in Kansas (not Mexico) being threatened by a wealthy land baron (not bandits) who comes in with a bunch of killers, and makes a shitty, non-negotiable offer for their land, that he says they can accept or be killed when he comes back in three weeks. And he makes this threat at gunpoint inside the church! Not cool.
This opening shows the dangers of normal people standing up to these bullies: they quickly execute the first guy who does it, and this escalates into a massacre. This asshole Bogue (Peter Sarsgaard) tells the in-his-pocket-out-of-fear sheriff to leave the bodies where they are, burns down the church and stops by the whorehouse on the way out. (read the rest of this shit…)
VERN has a new action-horror novel out called WORM ON A HOOK! He has been reviewing movies since 1999 and is the author of the film criticism books Seagalogy: A Study of the Ass-Kicking Films of Steven Seagal and Yippee Ki-Yay Moviegoer!: Writings on Bruce Willis, Badass Cinema and Other Important Topics as well as the crime novel Niketown.