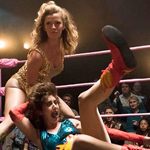 I don't usually review TV, but this show is short and consistent enough to review like a movie, and long-time commenter Mr. Majestyk tried to get me to defend my love for it, and it seemed to me worthy of its own post.
GLOW is a fun new Netflix show inspired by the 1986 founding of the Gorgeous Ladies of Wrestling. It's not a historically accurate representation of people or events, and even the wrestling personas are sort of off brand or alternate dimension versions. There's a Machu Picchu instead of Mountain Fiji, and a team called The Beatdown Bitties are similar to The Housewives. But it takes the idea of fringe Hollywood people doing a casting call for women willing to live in a house together and learn to wrestle, and makes it into ten breezy half-hour-ish episodes of dramedy. There are underdogs, friendships, creative expression and a winning let's-put-on-a-show spirit. And the show they put on is women in crazy costumes and glitter makeup tossing each other around in a ring with pink ropes, which is better than some other types of shows that somebody might put on. (read the rest of this shit…)
VERN has been reviewing movies since 1999 and is the author of the books SEAGALOGY: A STUDY OF THE ASS-KICKING FILMS OF STEVEN SEAGAL, YIPPEE KI-YAY MOVIEGOER!: WRITINGS ON BRUCE WILLIS, BADASS CINEMA AND OTHER IMPORTANT TOPICS and NIKETOWN: A NOVEL. His horror-action novel WORM ON A HOOK will arrive later this year.