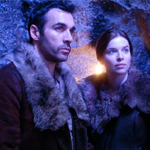 I don't know if HIGHLANDER: ENDGAME was ever supposed to be the end of the series, but it didn't turn out that way. Since it lost money, obviously Miramax/Dimension didn't want to be in the Highlander business anymore, and they sold the rights back to Davis-Panzer, who probly didn't want to work with those shitheads again anyway. They weren't making TV shows anymore and they wanted to keep their baby alive, so seven years later they figured out a way to make the fifth in the HIGHLANDER movie series, just without releasing it to theaters.

HIGHLANDER: THE SOURCE arrived in 2007 and is – at least for the foreseeable future – the final Highlander movie. It's the only one that's about Duncan MacLeod (Adrian Paul) without Connor MacLeod, and therefore the only live action one without Christopher Lambert. It's filmed in Lithuania with exaggerated digital colors and green screen FX, giving it a cheap but distinct look and feel. It's not technically post-apocalyptic like the two animated spin-offs, but it does not depict civilization as doing great. The opening tells us "The world has fallen into chaos and decay. There is no law, no justice, only death and destruction. Some say it's a sign of the coming of the apocalypse, a time that even Immortals fear." This is illustrated by an alley where some barrels are burning and a guy is getting stabbed. I think another guy is buying drugs (gasp!). (read the rest of this shit…)
VERN has a new action-horror novel out called WORM ON A HOOK! He has been reviewing movies since 1999 and is the author of the film criticism books Seagalogy: A Study of the Ass-Kicking Films of Steven Seagal and Yippee Ki-Yay Moviegoer!: Writings on Bruce Willis, Badass Cinema and Other Important Topics as well as the crime novel Niketown.