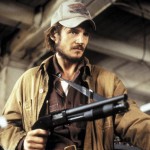 TAKEN has finally hit American shores many months after everybody else in the world already saw it and emailed me about it. As reported, it is a Luc Besson-produced version of a Seagal-type scenario: ex–CIA badass's daughter gets kidnapped in Paris, he goes and gets her back. An old favorite. The hook is that this badass is not played by a Seagal, or even a Statham. It's Liam Neeson (SCHINDLER'S LIST).
Okay, so admittedly action is not completely new for Neeson. He was a swordsman in both BATMAN BEGINS and PHANTOM MENACE. A long time ago he was Darkman. He even co-starred in a (not very good) Patrick Swayze action picture called NEXT OF KIN. (The one where not-famous-yet Ben Stiller plays a mobster's douchebag son.) But mostly he's moved beyond that, and I think most people consider him a Serious Actor. You know – MICHAEL COLLINS, KINSEY, GANGS OF NEW YORK, Spielberg's choice to play Lincoln. And here he is playing a role that the first Ain't It Cool review complained could've been played by Jean-Claude Van Damme. But of course you and I agree that's why it's so cool. We want to see a Van Damme movie but with Liam Neeson. Or how about a Michael Dudikoff with Frank Langella? Or a Bolo Yeung with Daniel Day Lewis? A Cynthia Rothrock with Susan Sarandon? (read the rest of this shit…)
VERN has been reviewing movies since 1999 and is the author of the books SEAGALOGY: A STUDY OF THE ASS-KICKING FILMS OF STEVEN SEAGAL, YIPPEE KI-YAY MOVIEGOER!: WRITINGS ON BRUCE WILLIS, BADASS CINEMA AND OTHER IMPORTANT TOPICS and NIKETOWN: A NOVEL. His horror-action novel WORM ON A HOOK will arrive later this year.