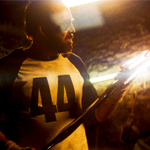 MANDY is a deranged bad trip of a movie from director Panos Cosmatos (BEYOND THE BLACK RAINBOW). It features a high grade mega-acting performance from Nicolas Cage (FIREBIRDS), and Cosmatos is the rare director to cinematically keep pace with Cage's style rather than try to balance it out. He and cinematographer Benjamin Loeb (KING COBRA) peel off the skin of reality and find the painted covers of obscure fantasy novels and death metal albums beneath.
Cage plays Red Miller, a lumberjack who lives in a cabin in the Shadow Mountains circa 1983 with his fantasy illustrator girlfriend Mandy (Andrea Riseborough, OBLIVION). One day they get kidnapped by a demonic biker gang and psychotic Christian cult led by hippie folk singer Jeremiah Sand (Linus Roache, THE CHRONICLES OF RIDDICK), who strings Red up with barb wire and (SPOILER) burns Mandy alive, leaving her to crumble into ashes in his hands.
But he escapes and gathers some weapons and comes back and fucking fucks shit up. And that's enough to hang a movie on in my opinion but explaining the premise does not remotely describe the movie, which seems from frame one to be drugged out of its mind and/or existing on a different astral plane. I bet when they try to play BORN LOSERS on Civic TV, this is how it broadcasts – a psychedelic fever dream revenge nightmare. (read the rest of this shit…)
VERN has a new action-horror novel out called WORM ON A HOOK! He has been reviewing movies since 1999 and is the author of the film criticism books Seagalogy: A Study of the Ass-Kicking Films of Steven Seagal and Yippee Ki-Yay Moviegoer!: Writings on Bruce Willis, Badass Cinema and Other Important Topics as well as the crime novel Niketown.