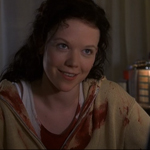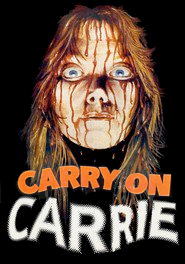 Okay, I agree. They shouldn't have made a sequel to CARRIE. But what if I were to tell you that it's not bad? That's what I would tell you if the subject came up, because that's what I believe. If you have it in you to be a Sue Snell and try to give CARRIE 2 a chance you might be able to see the nice, pretty girl underneath.
It's a movie of the '90s so the protagonist, Rachel (newcomer Emily Bergl, now a veteran of TV shows including Desperate Housewives, Southland, The Knick and Shameless), is a different type of outcast than Carrie White. She's not raised in seclusion, she just had her mother taken away to an asylum when she was young, and she lives with shitty foster parents. She's not socially stunted. She's just a girl who likes to wear black and no makeup and has a Marilyn Manson poster and a cheesy matching tattoo with her best friend Lisa (Mena Suvari right before AMERICAN PIE and AMERICAN BEAUTY). It is not specified, but in my opinion she owns THE CRAFT on VHS or at the very least PUMP UP THE VOLUME.
Rachel can stand up for herself but does have some vulnerabilities. Her other best friend is her basset hound Walter, and she's embarrassed when it comes up that she's a virgin. Although she gives lip service to the band Garbage, we hear her listening to Billie Holliday more than once. (read the rest of this shit…)
VERN has been reviewing movies since 1999 and is the author of the books SEAGALOGY: A STUDY OF THE ASS-KICKING FILMS OF STEVEN SEAGAL, YIPPEE KI-YAY MOVIEGOER!: WRITINGS ON BRUCE WILLIS, BADASS CINEMA AND OTHER IMPORTANT TOPICS and NIKETOWN: A NOVEL. His horror-action novel WORM ON A HOOK will arrive later this year.