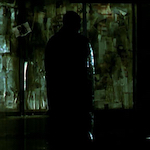 Neither MIMIC or MIMIC 2 seemed to go over all that well, but that didn't stop Dimension Films from releasing MIMIC 3: SENTINEL in 2003. This is probly my favorite of the three, and at the very least it deserves high marks for taking advantage of the pre-sold nature of the format to take a weird left turn, not at all the lower-budget-rehash approach of so many DTV sequels. It follows a drastically different template: the Hitchcockian voyeur thriller. It even uses a quasi-Saul Bass movie poster font for the title. But it doesn't feel like they took an old suspense thriller script and grafted a bug man onto it, because it ties into and builds off of the world of MIMIC in smart and interesting ways.
This one is written and directed by J.T. Petty, whose THE BURROWERS I've been meaning to check out forever. He also did SOFT FOR DIGGING (a $5,000 student feature that I believe got him this gig), S&MANand HELLBENDERS. Here he's made a movie that kind of feels like it comes out of the same school as early Soderbergh or Nolan – the hyper-intelligent indie guys that were more into old noirs than drive-in movies. (read the rest of this shit…)
VERN has a new action-horror novel out called WORM ON A HOOK! He has been reviewing movies since 1999 and is the author of the film criticism books Seagalogy: A Study of the Ass-Kicking Films of Steven Seagal and Yippee Ki-Yay Moviegoer!: Writings on Bruce Willis, Badass Cinema and Other Important Topics as well as the crime novel Niketown.