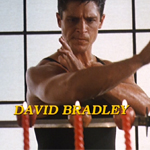 AMERICAN NINJA 5 is the explosive finale to the AMERICAN NINJA saga, by which I mean it's an unrelated movie starring David Bradley that they retitled. At least that's my assumption since he's named Joe in this one instead of Sean. I could easily accept this character as Sean Davidson, who he played in parts 3 and 4, but they call him the other name so they must not have had that in mind while filming. He also opens the movie training with Tadashi "Bronson Lee" Yamashita, who played the Black Star Ninja in part 1, but this time Yamashita is credited as playing himself.
And I guess they must've decided that the title was misleading enough that they didn't have to have a totally unrelated subtitle like all the other sequels. Something like AMERICAN NINJA 5: GAUNTLET OF FIRE or AMERICAN NINJA 5: IRON CLAW JUSTICE.
By the time this came out in 1993, ninjas were a subject of parody and kiddie fare. In the same year, the older brother of AMERICAN NINJA 5's young star starred in SURF NINJAS with Rob Schneider and Leslie Nielsen. So this is a PG-13, sometimes jokey movie. Bradley has to take care of his master's grand-nephew Hiro (introducing Lee Reyes). Also, his master, Master Tetsu, is played by Pat Morita, four years after THE KARATE KID III and the KARATE KID cartoon, one year before THE NEXT KARATE KID. Not very Cannonical. But it does have many elements of an AMERICAN NINJA movie: a scheming evil scientist, an army of multi-colored ninjas with one more visually distinguished lead ninja (with a snake-themed name, even), a kidnapping, sneaking into a foreign land, sneaking into a compound, getting jailed, doing a ninja hand signal meditation thing, child ninjitsu training montage, suppressed memories of childhood ninjitsu training. (read the rest of this shit…)
VERN has been reviewing movies since 1999 and is the author of the books SEAGALOGY: A STUDY OF THE ASS-KICKING FILMS OF STEVEN SEAGAL, YIPPEE KI-YAY MOVIEGOER!: WRITINGS ON BRUCE WILLIS, BADASS CINEMA AND OTHER IMPORTANT TOPICS and NIKETOWN: A NOVEL. His horror-action novel WORM ON A HOOK will arrive later this year.