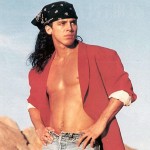 Hey, everyone. "Moriarty" here. This is the best possible thing for Vern to end up reviewing for us… crazy obscure video titles. And I love the guys over at Dark Sky, so it's a match made in heaven. Today's review just proves my point…
So this Dark Sky label has been sending me their DVDs ever since I reviewed their great TEXAS CHAIN SAW MASSACRE ULTIMATE EDITION. Most of them aren't classics like that, they're obscure little things I never heard of, and they can be pretty interesting. This month's titles are TRAGIC CEREMONY and RICCO THE MEAN MACHINE.
TRAGIC CEREMONY is a 1972 Italian horror movie about a TRAGIC CEREMONY. A group of young people go boating, then driving around in a dune buggy, they run out of gas and end up having to go up to a mansion to ask for help. Little do they know there's a TRAGIC CEREMONY that's gonna happen there. See, there's a satanic cult, and one character has this pearl necklace that has a spooky past, and who knows what kind of crazy shit will go down?
Well, I know. I saw the movie. Some heads get chopped off, a guy gets thrown out a window, etc. (read the rest of this shit…)