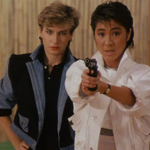 (a.k.a. POLICE ASSASSINS on the DVD I watched)
YES, MADAM! is a 1985 Hong Kong action classic starring the one and only Michelle Yeoh as Senior Inspector Ng, hard working cop who should be on vacation and instead ends up searching for some damn microfilm.
She ends up on the case due to a crazy pile-up of coincidences. Her old instructor Richard Nordon (Michael Harry, AN ANGEL AT MY TABLE) is meeting in his hotel room with a thug named Mr. Dick (Dick Wei, EASTERN CONDORS), who ends up killing him. Immediately after that, two thieves disguised as bellboys happen to break into the room. They happen to steal Nordon's passport, which happens to contain the microfilm of a forged contract that Mr. Dick was after in the first place. And then Inspector Ng happens to come to the room to meet with her old mentor, just in time to see the fake bellboy fleeing the scene and try to chase him.
There's a dramatic moment in the lobby when Mr. Dick thinks she's made him and is ready to shoot her. (read the rest of this shit…)