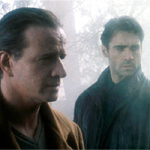 It is the futuristic year of 2000. In the real world, HIGHLANDER II's prediction of solar radiation creating the necessity for an electromagnetic shield over the earth has not come to pass. Instead we got President George W. Bush and Ron Howard's upcoming HOW THE GRINCH STOLE CHRISTMAS!.

It has been six years since HIGHLANDER III, which did not make back its production costs at the box office. But in that time the mythology of the Immortals has taken on a new life on television, with Connor MacLeod's younger friend Duncan MacLeod (Adrian Paul) entertaining fans through 117 episodes (not including the two he wasn't in). Though the show ended in 1998 and its spin-off The Raven in 1999, they have clearly left behind a fan base that takes this shit seriously. From 1994-2000 there was an annual convention called "The Gathering" in Denver, Colorado, with Paul and other stars as guests of honor. From 1997-1999 there were three "Highlander Clan Cruises." 1997 gave Australia the first of eight "Highlander Down Under" conventions. And the list goes on. Clearly this is a group of loyal fans waiting to be exploited. I mean catered to.
And so here on the cusp of the millennium we find the immortal movie series resurfacing in the Weinstein-Brothers-cheapass-franchise-exploitation era.