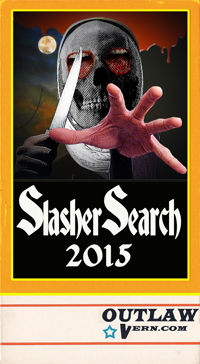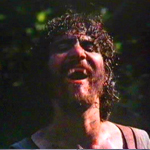 a.k.a. GEEK
This year during Slasher Search I'm hoping to find a few more woods/camping/cabin based slashers, because I'm working on a novel that relates to this subgenre. So I started with one that actually had the word "woods" as part of the title.
BACKWOODS is a very routine low budget movie about a young couple who go on a camping trip and get into trouble with a feral mountain man type dude. Things do not look promising when the movie goes from the opening credits – with a hillbilly folk tune about racoon hunting creepily whisper-sung over black (you'll be hearing this song alot) – to a shot of the protagonists riding bikes with cheesy drum machines and music so inappropriately upbeat it sounds like it comes from an old educational film strip. This is a pretty bad movie, but at least it's not as bad as this music cue had me convinced it would be.
Karen (Christina Noonan, no other credits) and Jamie (Brad Armacost – holy shit, he was on an episode of Empire! I love that show!) are visiting Kentucky. Karen insists on riding their bikes through a mountain trail, then chaining them to a tree and hiking further until they set up a tent and have some sex and what not. Of course this is after a friendly local tells them definitely not to go up in that direction. No specific reason I want to mention but, you know, trust me on this.
The first sign of trouble: they keep finding chicken heads everywhere. Kinda weird. Then it seems like somebody's watching them have sex. (read the rest of this shit…)