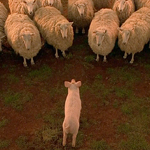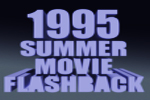 Looking back at these movies from the summer of 1995 is really interesting to me, but it doesn't seem like a very good summer for movies. I mean, DIE HARD WITH A VENGEANCE was really good. That was at the very beginning.
Now all the sudden it's August and this G-rated Australian talking animal movie comes out. There were signs that it might be interesting for that sort of thing: It had a nice storybook look to it, and a new idea of digitally animating mouth movements and expressions on animals instead of just feeding them peanut butter.
But you guys, BABE is more than just better than expected, and ended up being a phenomenon. Even though it's seen as a kid's movie, it's one of such precise, economical storytelling, such unique vision and such sweet sincerity that it ended up with 7 well deserved Oscar noms (short for nominations): Best Picture, Best Director, Best Adapted Screenplay, Best Supporting Actor (James Cromwell supporting a bunch of farm animals!), Best Art Direction, Best Editing and Best Visual Effects (which it won – take that, only other nominee APOLLO 13).
And that was not just Oscar silliness, or the world getting swept up in some crazy 1995 shit. I just watched it again and 20 years later BABE is still a perfect movie.