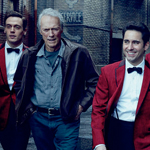 "Frankie's okay. He's no Neil Sedaka."
Here it is again, the ol' New Movie Directed By Clint Eastwood But Without Him Acting In It rigmarole. It goes like this: New Clint movie comes out. It doesn't seem like my kind of thing. It gets bad reviews (at least if it came out in recent years). I genuinely intend to see it in theaters, but I keep putting it off. There's always something I'm more excited for that's playing. Like, uh, I believe I might've seen some robot/dinosaur related picture around the time JERSEY BOYS came out. So I end up missing the movie in theaters. Months later it comes out on video. I'm not excited. I feel like I'm doing my homework. I watch it.
And then the Hey, this is pretty good!
I wouldn't say this surprised me as much as J. EDGAR (which I still believe is totally underrated, and got 10% worse reviews even than JERSEY BOYS, according to Rotten Tomatoes) but I'm happy to say I enjoyed it. It's a solid, entertaining biopic of Frankie Valli and the Four Seasons based on a Broadway show of some kind. Vincent Piazza of Boardwalk Empire plays guitarist Tommy DeVito and then the guys from the stage version play the other three: John Lloyd Young as lead singer Frankie Valli, Erich Bergen as songwriter/keyboardist Bob Gaudio and Michael Lomenda as bassist Nick Massi.
I thought it was gonna be a musical, but thankfully it's not. It's just a story about musical performers doing musical performances, recorded by the actors. I don't know about the show, but the movie version only has one actual musical number and it's during the end credits. In my opinion it is more of a blooper reel than an official part of the movie, because why would they be dancing around on a soundstage street singing songs, I mean it just doesn't make sense.
The rest of the time it's them singing "Sherry" and "Can't Take My Eyes Off Of You" and stuff, and these are good songs. So it's not a problem. (read the rest of this shit…)