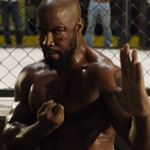 I wrote a new piece, The State of Action Filmmaking, 2017, sort of a 2016 in review. I thought it was for The Village Voice actually but it has surfaced on the L.A. Weekly. So check it out. I am proud to get a big picture of Michael Jai White in the L.A. Weekly, I don't know how often that happens.
This entry was posted on Saturday, January 7th, 2017 at 12:08 pm and is filed under
Blog Post (short for weblog)
. You can follow any responses to this entry through the
RSS 2.0
feed. You can skip to the end and leave a response. Pinging is currently not allowed.