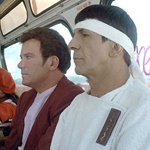 In case you don't know, I am not nor have I ever been a member of the Trekko community. I am at best a casual enjoyer. Just so you know who you're dealing with here before reading this review I will make two potentially disqualifying confessions:
1. I have watched WRATH OF KHAN a few times over the years and it's always pretty good but I honestly have no clue why everyone I know considers it one of the great movies.
2. The first J.J. Abrams STAR TREK is the Star Trek I enjoyed the most.
But you know, I've seen good episodes of various shows and I respect the philosophy of it, the emphasis on ideas, the respect for knowledge and wisdom, and the colorful style of the original show. I wish I could appreciate it more, but maybe I'm just a philistine.
With this in mind I had to go to the experts to ask which STAR TREK picture I should watch for the Summer of '16 Origins series, and I was prescribed STAR TREK IV: THE VOYAGE HOME (1986). I was under the impression that "the one with the whales" was the one everybody made fun of, but Wikipedia says it was well received, and according to my friends who grew up on it it's the one they watch the most. (read the rest of this shit…)
VERN has a new action-horror novel out called WORM ON A HOOK! He has been reviewing movies since 1999 and is the author of the film criticism books Seagalogy: A Study of the Ass-Kicking Films of Steven Seagal and Yippee Ki-Yay Moviegoer!: Writings on Bruce Willis, Badass Cinema and Other Important Topics as well as the crime novel Niketown.