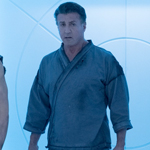 When I heard they were making an ESCAPE PLAN 2 I couldn't believe it. If you read my review of the first one you can see that right at the beginning I worried it might be "the last gasp for straight ahead R-rated theatrically released movies from the '80s action icons." I was a major proponent of the Old Man Schwarzenegger and Stallone movies and disappointed that they kept flopping. I even saw MAGGIE in a theater somehow (there were three other people there, if I remember right) and I suspect I've recommended BULLET TO THE HEAD to more people than any other human being. I liked that one better, but that's okay – ESCAPE PLAN was a solid genre piece with standard Stallone and Schwarzenegger getting to be funny and some goofiness and weirdness for flavoring. Not the best or worst thing either of these icons have done. A pretty good one. I want to keep seeing old fashioned action star vehicles like that, but these days the world is treating them like VHS. Or maybe Betamax. Or America Online CD-ROMs.
So I was grateful for whatever miracle of international co-financing gave us the possibility of an ESCAPE PLAN franchise. And okay, so it's too bad Arnold isn't in this one, but Dave Bautista (WRONG SIDE OF TOWN)? I'll take Dave Bautista. And then wait a minute, they're not releasing it in theaters? I guess I could understand it. Still could be good.
But pretty recently I saw another trailer and I noticed wait a minute, this is kind of weird, they say STALLONE and they say BAUTISTA but it kind of looks like it's mostly about this character played by a Chinese actor whose name they don't even say. (read the rest of this shit…)
VERN has a new action-horror novel out called WORM ON A HOOK! He has been reviewing movies since 1999 and is the author of the film criticism books Seagalogy: A Study of the Ass-Kicking Films of Steven Seagal and Yippee Ki-Yay Moviegoer!: Writings on Bruce Willis, Badass Cinema and Other Important Topics as well as the crime novel Niketown.