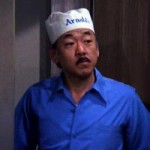 Two time Oscar winner Hilary Swank, hailing from Bellingham, Washington, stars in the explosive finale to the Karate Kid quadilogy. This one was Swank's first starring role and came out in 1994, when movies were just as crappy but not quite as funny as their '80s counterparts. The director is Christopher Cain, father of Dean Cain and director of The Amazing Panda Adventure.
Swank plays Julie, a pouty, sullen teenage girl who lives unhappily with her grandma after the death of her parents. Anything anybody says to Julie, she takes offense and throws a hissy fit. You know how old people are, they try to be nice but they don't really understand where your teenage mind is coming from, so they offer you some lemon bars or something and you're like "GOD DAMN IT WHY CAN'T YOU JUST LEAVE ME ALONE?!" and run out of the room crying. So then Julie goes in and stabs grandma to death in her sleep, while jerkin off. Or was that a different movie? I can't remember. (read the rest of this shit…)
VERN has been reviewing movies since 1999 and is the author of the books SEAGALOGY: A STUDY OF THE ASS-KICKING FILMS OF STEVEN SEAGAL, YIPPEE KI-YAY MOVIEGOER!: WRITINGS ON BRUCE WILLIS, BADASS CINEMA AND OTHER IMPORTANT TOPICS and NIKETOWN: A NOVEL. His horror-action novel WORM ON A HOOK will arrive later this year.