August 21, 1998
is when BLADE came out and changed both cinema and humanity forever. But I already wrote the definitive review of that so here I am reviewing DEAD MAN ON CAMPUS.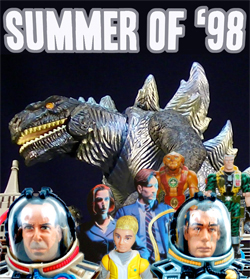 It turns out maybe the comedies that come out in August are not essential to a summer movie retrospective. That's a lesson I'm learning. I actually saw DEAD MAN ON CAMPUS at the time, but I realize now that I was conflating my memory of it with IDLE HANDS. I knew it was a different movie, but I thought it was another supernatural teen horror comedy. It was about half an hour in before I realized oh shit, he's not gonna turn into a zombie. This is that movie where they find out their college has an obscure rule that if your roommate commits suicide then they have to give you straight As (just go with it) so they try to find an unstable roommate and push him to the brink. The kind of movie that should just have a disclaimer and a 1-800 number running across the screen throughout like a watermark on a critic's screener. (read the rest of this shit…)
VERN has a new action-horror novel out called WORM ON A HOOK! He has been reviewing movies since 1999 and is the author of the film criticism books Seagalogy: A Study of the Ass-Kicking Films of Steven Seagal and Yippee Ki-Yay Moviegoer!: Writings on Bruce Willis, Badass Cinema and Other Important Topics as well as the crime novel Niketown.