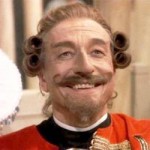 I don't know what you've heard about this one, but I keep hearing that it's a pile of shit. That Todd Solondz has gone from a visionary manipulator of our deepest taboos and human flaws, to some kind of shock value asshole just trying to get a rise out of people. That this is just a big fuck you to the audience with no sense of humanity and etc. etc.
Well none of that is true. I'm not gonna say this is a perfect movie. It feels a little short (apparently they cut out one of three stories, and that seems like it mighta been a mistake). But if it weren't for all the shit I heard from contrarians waiting to pounce on their former hero, I would say that anybody who liked HAPPINESS would like this one too. Because it's the same kind of feel – a deep probing of the things that make individuals the most uncomfortable. It's not as sad as HAPPINESS but it has that same feeling that it is daring you to laugh. Come on motherfucker. Laugh at this. I fucking dare you. Remember, you're in public here. Do you have the balls to let everyone else in this room know that you think that's funny?
Do you? (read the rest of this shit…)
VERN has been reviewing movies since 1999 and is the author of the books SEAGALOGY: A STUDY OF THE ASS-KICKING FILMS OF STEVEN SEAGAL, YIPPEE KI-YAY MOVIEGOER!: WRITINGS ON BRUCE WILLIS, BADASS CINEMA AND OTHER IMPORTANT TOPICS and NIKETOWN: A NOVEL. His horror-action novel WORM ON A HOOK will arrive later this year.