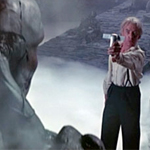 I still intend to review all of Michael Mann's movies in chronological order. I haven't gotten very far, but the one I'm on, THE KEEP, happens to be Halloween appropriate.
Other than its beautiful craftsmanship, this is completely unlike what we associate with a Mann film. Usually he looks for a higher level of realism than most movies, and to be very up-to-date with the technology and trends of the time. THE KEEP doesn't do any of those things because it's a weird, atmospheric horror movie set during WWII.
It concerns a group of German soldiers occupying an ancient stone fortress in Romania that seems to be haunted or something. Father Fonescu (Robert Prosky, LAST ACTION HERO, EYE SEE YOU), the priest and caretaker, warns them not to touch the nickel and silver crosses inlayed in the walls, but a couple of them try to steal one anyway. Behind it is a hole and when one of the looters peeks his head into the dark void something takes away the top half of his body. (read the rest of this shit…)
VERN has been reviewing movies since 1999 and is the author of the books SEAGALOGY: A STUDY OF THE ASS-KICKING FILMS OF STEVEN SEAGAL, YIPPEE KI-YAY MOVIEGOER!: WRITINGS ON BRUCE WILLIS, BADASS CINEMA AND OTHER IMPORTANT TOPICS and NIKETOWN: A NOVEL. His horror-action novel WORM ON A HOOK will arrive later this year.