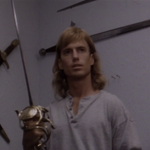 RING OF STEEL is a classical underground fighting circuit movie from 1994, and it has many familiar elements: a hero who needs work after accidentally killing an opponent in a legitimate match, a mysterious, clearly untrustworthy stranger who leads him into the temptation of a high stakes fight club, rich people betting, the slow roll-out of death matches after the hero is already in too deep, a jealous and possessive-of-women rival, police snooping around, a girlfriend who ends up being used as collateral to make him fight the big match, all that type of stuff. But it has one unique element that gives the whole enterprise a novel flavor and personality: the fights are sword fights.
The hero is a disgraced fencing champion. Given a choice of weapons, he picks some kind of 17th century musketeer deal to go up against knights and samurai and shit. And some of the score by Jeff Beal (IN THE REALMS OF THE UNREAL, BLACKFISH, WEINER, HE WAS A QUIET MAN) would work for a Roger Corman sword and sorcery movie. (read the rest of this shit…)
VERN has a new action-horror novel out called WORM ON A HOOK! He has been reviewing movies since 1999 and is the author of the film criticism books Seagalogy: A Study of the Ass-Kicking Films of Steven Seagal and Yippee Ki-Yay Moviegoer!: Writings on Bruce Willis, Badass Cinema and Other Important Topics as well as the crime novel Niketown.