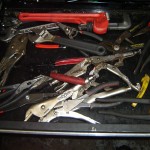 The original TOOLBOX MURDERS was made because of TEXAS CHAIN SAW MASSACRE. You can't really say it's a ripoff, because the movies don't have much in common. But on the DVD, the producer explains that he read in Variety or somewhere about the amount of money TEXAS CHAIN SAW had made so he rented a print of it and hired a screenwriter to watch the movie and make something like that.
So it's weird that 24 years later poor Tobe Hooper, director of TEXAS CHAIN SAW, wound up doing a remake of TOOLBOX MURDERS. But just like before, his movie doesn't have much connection with the movie that inspired it. There's a guy in a ski mask killing people with tools in an apartment building, but everything else is different. (read the rest of this shit…)
VERN has been reviewing movies since 1999 and is the author of the books SEAGALOGY: A STUDY OF THE ASS-KICKING FILMS OF STEVEN SEAGAL, YIPPEE KI-YAY MOVIEGOER!: WRITINGS ON BRUCE WILLIS, BADASS CINEMA AND OTHER IMPORTANT TOPICS and NIKETOWN: A NOVEL. His horror-action novel WORM ON A HOOK will arrive later this year.