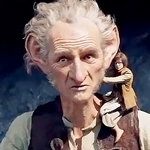 THE BFG is the latest BFD from Steven Spielberg (E.T., A.I.) and it's an LSM (Lesser Spielberg Movie), but still won me over PDQ. Based on the children's book by Roald Dahl (Charlie and the CF, James and the GP, The Fantastic MF), it's the story of a 24-foot tall individual (Mark Rylance, BLITZ, BRIDGE OF SPIES) whose thing is he comes into town at 3 a.m. with a trumpet that blows dreams into people. But this time he's seen by Sophie (Ruby Barnhill), a little night owl girl at an orphanage, and he doesn't want her to burn his whole operation so he reaches into her window, picks her up in his palm and absconds with her to Giant Country.
I love the way this giant sneaks into town. It's not one of those things where he's invisible to people who don't believe in him or something. No, he just comes in late at night and knows how to hide when people are around. He wears a cloak that he wraps around himself and he'll move into the shadows, curl up on the bed of a truck or stand in the shape of a tree. I like that it's not all that convincing of a tree, because it shows that there could be crazy shit going on right under our noses that we just don't notice because we're not looking for it. Nobody expects giants. (read the rest of this shit…)
VERN has been reviewing movies since 1999 and is the author of the books SEAGALOGY: A STUDY OF THE ASS-KICKING FILMS OF STEVEN SEAGAL, YIPPEE KI-YAY MOVIEGOER!: WRITINGS ON BRUCE WILLIS, BADASS CINEMA AND OTHER IMPORTANT TOPICS and NIKETOWN: A NOVEL. His horror-action novel WORM ON A HOOK will arrive later this year.