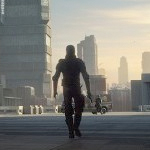 Dreddful. Absolutely dreddful. That means good! I really liked this movie.
It's a coincidence, but it's kinda cool and weird how much DREDD is like a sci-fi version of THE RAID. Similar premise: heavily armed but outnumbered police team raid a building controlled by a crimelord, crimelord announces over the intercom that they need to be killed, they have to fight their way up to the top of the building to kill the leader. But since it's sci-fi the brutality and overkill of the police force is part of a dystopian future, the building (called "Peach Trees") is 200 stories instead of about 30, and the whole thing is sealed behind blast shields so that nobody can get out. Instead of powerful silat skills our protagonist Judge Dredd (Karl Urban) relies on a badass computerized and voice-activated gun with various forms of bullets, explosives and firebursts.
VERN has been reviewing movies since 1999 and is the author of the books SEAGALOGY: A STUDY OF THE ASS-KICKING FILMS OF STEVEN SEAGAL, YIPPEE KI-YAY MOVIEGOER!: WRITINGS ON BRUCE WILLIS, BADASS CINEMA AND OTHER IMPORTANT TOPICS and NIKETOWN: A NOVEL. His horror-action novel WORM ON A HOOK will arrive later this year.