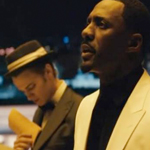 TAKERS is a heist movie that features Paul Walker (THE FAST AND THE FURIOUS 1,2,4-present) and Hayden Christensen (STAR WARS 2-3) as thieves, Jay Hernandez (HOSTEL, CARLITO'S WAY: RISE TO POWER) as one of the cops that's out to get them, and Johnathon Schaech as their fence. Holy shit, this is like the EXPENDABLES of likable but bland, inarticulate would-be leading men! I bet they're looking at Chris Klein for part 2. Maybe Scott Speedman.
Nah, that's a cheap shot. The truth is I sort of like all those guys, or at least root for them to prove everybody wrong. Walker seems too nice to hate, and he's been in a bunch of movies that I've enjoyed, and even been good in some of them. Hernandez – I liked the HOSTEL movies. Schaech channeled Swayze well in ROAD HOUSE 2. Christensen is all right, he's just going down a path I cannot follow.
(read the rest of this shit…)
VERN has a new action-horror novel out called WORM ON A HOOK! He has been reviewing movies since 1999 and is the author of the film criticism books Seagalogy: A Study of the Ass-Kicking Films of Steven Seagal and Yippee Ki-Yay Moviegoer!: Writings on Bruce Willis, Badass Cinema and Other Important Topics as well as the crime novel Niketown.