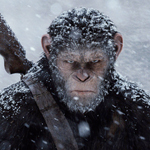 Director Matt Reeves, in his two sequels to the prequel to the PLANET OF THE APES series, has achieved some sort of cinematic miracle. I don't think we as a society have properly acknowledged how incredible and unlikely these movies are. These are prebootquel-sequel-summer-event-special-effects-movies that are bleak, heavy and emotional, yet fun to watch. They feel like they're based in the real world, yet they have us accepting apes that can speak English – not in a BABE talking-animal-movie type of way, but in a "some of them have evolved enough to learn how to do it" sort of way. Tentative, with odd rhythms, and economical use of words. It's like a trick that they're still mastering, putting great effort into each syllable, having to catch their breath between words. There's still something creepy about this demonstration of intelligence from animals that are in a war with humans like us. Yet Reeves gets us to root for them – for their survival, for their moral choices.
It's almost beside the point that somehow Reeves films a bunch of dudes in weird suits out in the woods and Weta turns them into photo-realistic animated characters. Most of the main characters and extras are computer generated, but I just think of it as live action while I'm watching it. Remember when it seemed like the Achilles heel of motion capture would always be the creepy, doll-like eyes? Well, here we have Caesar (played by the Marlon Brando of mo-cap, Andy Serkis), a performance that's at least 25% intense stare-down. It's as if all the soul and humanity missing from all the eyeballs in THE POLAR EXPRESS were set aside to load into his. (read the rest of this shit…)
VERN has a new action-horror novel out called WORM ON A HOOK! He has been reviewing movies since 1999 and is the author of the film criticism books Seagalogy: A Study of the Ass-Kicking Films of Steven Seagal and Yippee Ki-Yay Moviegoer!: Writings on Bruce Willis, Badass Cinema and Other Important Topics as well as the crime novel Niketown.