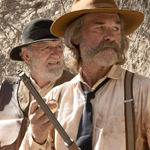 Before THE HATEFUL EIGHT, Kurt Russell first teamed with his crazy mustache on a different ensemble western with bursts of outrageously brutal violence. BONE TOMAHAWK is kinda like a John Wayne movie that happens to bump into CANNIBAL HOLOCAUST for a minute. But don't get too excited about that high mash up concept. For the most part it's a straight up western, for people who enjoy westerns. It's just that it's got a scene or two that might make a few of those guys spit out their coffee.
In the opening scene two murderous bandits, Buddy (Sid Haig) and Purvis (David Arquette), trespass on some kind of skull-decorated burial ground that Indiana Jones might be able to tell them about. They were just talking about what's proper to do with the Bibles of the travelers they murdered on the road, but they do not show the same concern for this particular culture. Anyway, they get into some trouble, you could say.
Purvis escapes and makes it into the town of Bright Hope, where he is not welcome, and quickly ends up shot and arrested by Sheriff Franklin Hunt (Russell). But during the night some kind of savages attack the jail, tearing one man apart and abducting Purvis, a deputy (Evan Jonigkeit, Toad from X-MEN: DAYS OF FUTURE PAST), and a local doctor (Lili Simmons, who I guess is on Banshee, but I honestly thought she was Katherine Heigl). She was at the jail to attend to Purvis's bullet, and yes, for the record she drops the slug into a metal canister. Anyway she's in the wrong place at the wrong time, she gets abducted. Most of the movie is about the rescue party traveling to cannibal territory to try to get them all back. (read the rest of this shit…)
VERN has been reviewing movies since 1999 and is the author of the books SEAGALOGY: A STUDY OF THE ASS-KICKING FILMS OF STEVEN SEAGAL, YIPPEE KI-YAY MOVIEGOER!: WRITINGS ON BRUCE WILLIS, BADASS CINEMA AND OTHER IMPORTANT TOPICS and NIKETOWN: A NOVEL. His horror-action novel WORM ON A HOOK will arrive later this year.