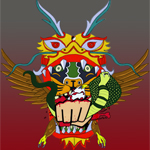 "I'm not interested in champions of the ring. I'm interested in champions of the heart."
When I found BARE KNUCKLES I wasn't sure it would even be watchable. It's recent (2010), I'd never heard of it, it's not from an established action star or director, and the box mentions serious matters: "Women will go to extreme lengths for those they love, and single mother Samantha Rogers is no exception, being the sole provider for her daughter Mila, a child in need of special care." That kinda sounds like a recipe for an indie drama about a fighter that's not really about fights. Then I put it in and the menu and opening credits both of terrible fonts and music, and they put the obviously bogus claim "inspired by a true story" right after the title. This just looks like amateur hour from the get go.
What I'm saying is BARE KNUCKLES was an underdog. A Cinderella story. Cinderella Man, but with a lady… and it makes us all proud. It's a little ragged and cheesy at times, but it's a really likable take on alot of the genre tropes, feeling a little different without ever reinventing anything. (read the rest of this shit…)
VERN has a new action-horror novel out called WORM ON A HOOK! He has been reviewing movies since 1999 and is the author of the film criticism books Seagalogy: A Study of the Ass-Kicking Films of Steven Seagal and Yippee Ki-Yay Moviegoer!: Writings on Bruce Willis, Badass Cinema and Other Important Topics as well as the crime novel Niketown.