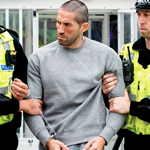 In AVENGEMENT, Scott Adkins creates one of his best characters yet, though I don't necessarily expect to see a franchise around this one. Like French in THE DEBT COLLECTOR, Cain Burgess is a regular working class British fighter who tries taking an illegal job to pay for a gym. In this case it's a quick gig for his older brother Lincoln (Craig Fairbrass, CLIFFHANGER, RISE OF THE FOOTSOLDIER, THE BANK JOB, HOUSE OF THE RISING SUN), but it goes wrong and he ends up in prison.
We hear the story in pieces throughout the movie, as Cain reveals it to a captive audience at the members only pub he barges into after escaping custody during a supervised visit to his dying mother (Jane Thorne, THE FOREIGNER). Only one of them, Hyde (Nick Moran, LOCK STOCK AND TWO SMOKING BARRELS), has ever met Cain, who has been through such a thorough metamorphosis he's barely recognized. If rehabilitation was the intention of Cain's incarceration, the opposite effect was achieved. A nice guy with no record and nothing but regrets for his actions was forced to develop his fighting skills and a "callused mind" to withstand the years of stabbings and beatings made possible by the perfect storm of a price on his head, a corrupt staff and a clueless prison board. He returns to the old neighborhood sporting cheap metal replacement teeth, a scar across his eye and napalm burns on half of his face, like a gnarled Frank Miller drawing. He describes himself as "A hardened, rusty nail."
(I hope that's his Twitter bio.) (read the rest of this shit…)
VERN has been reviewing movies since 1999 and is the author of the books SEAGALOGY: A STUDY OF THE ASS-KICKING FILMS OF STEVEN SEAGAL, YIPPEE KI-YAY MOVIEGOER!: WRITINGS ON BRUCE WILLIS, BADASS CINEMA AND OTHER IMPORTANT TOPICS and NIKETOWN: A NOVEL. His horror-action novel WORM ON A HOOK will arrive later this year.