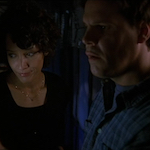 I reviewed the ruckus-on-an-airplane thriller TURBULENCE a little before Christmas, and I knew it had two non-holiday-specific DTV sequels, so obviously I wasn't going to let them go unexamined. TURBULENCE 2: FEAR OF FLYING is from 1999, two years after the first one, made by different people and without any connected characters. But faced with the question "What makes a TURBULENCE movie a TURBULENCE movie?" director David Mackay (ICE SCULPTURE CHRISTMAS) and writers Rob Kerchner (BLOODFIST IV-VII, CARNOSAUR 3: PRIMAL SPECIES, CASPER: A SPIRITED BEGINNING, WARGAMES: THE DEAD CODE) & Brendan Broderick (THE DEATH ARTIST) & Kevin Bernhardt (3000 MILES TO GRACELAND, PEACEFUL WARRIOR, ELEPHANT WHITE) decided "there's a hijack attempt during a flight and they have to fight it off and somebody who's not the pilot has to land the plane with direction from somebody on the ground." Logical enough. Let's go with it.
The new spin they came up with, as indicated in the subtitle, is that most of the people on this flight, including our intrepid heroes, have a phobia of flying. They're part of a class trying to overcome said fear first in a simulator and then on an actual flight from Seattle to L.A. And they're not very relaxed about it since one of the flight attendants accidentally left the intercom on while talking about a storm that will make the flight "Hell." (read the rest of this shit…)
VERN has a new action-horror novel out called WORM ON A HOOK! He has been reviewing movies since 1999 and is the author of the film criticism books Seagalogy: A Study of the Ass-Kicking Films of Steven Seagal and Yippee Ki-Yay Moviegoer!: Writings on Bruce Willis, Badass Cinema and Other Important Topics as well as the crime novel Niketown.