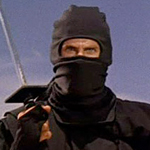 "You know, loners don't go too far in this outfit."
AMERICAN NINJA is a Cannon Films classic starring model-turned-action-star Michael Dudikoff as army-rookie-with-a-mysterious-ninja-past Joe Armstrong. I already reviewed it several years ago and in my opinion it was a well-written review with some points and some jokes that I wouldn't have thought of now. For example I said that the ninjas in the yellow costumes would be good at hiding in a banana tree or a field of dandelions. You gotta have that youthful eye of the tiger to come up with that one.
But today I am revisiting AMERICAN NINJA for an important new series in which we will compare each installment of Francois Truffaut's Antoine Doinel series to each installment of Golan and Globus's AMERICAN NINJA series. Why, does the AMERICAN NINJA series follow the same character as he ages? Well, not really, I don't think so, but I can't think of a better pairing of quintologies to represent the full spectrum of cinema art from the respected and high brow ("brilliantly and strikingly reveals the explosion of a fresh creative talent… a picture that encourages an exciting refreshment of faith in films" wrote Bosley Crowther in The New York Times) to the… other kind ("Woefully acted, abysmally written… an embarrassment even when held to the low standards of grade C exploitation movies" wrote Candice Russell in The Sun Sentinel). By alternating between them and comparing and contrasting how they approach each chapter I hope we'll find the true meaning of art or whatever. (read the rest of this shit…)
VERN has been reviewing movies since 1999 and is the author of the books SEAGALOGY: A STUDY OF THE ASS-KICKING FILMS OF STEVEN SEAGAL, YIPPEE KI-YAY MOVIEGOER!: WRITINGS ON BRUCE WILLIS, BADASS CINEMA AND OTHER IMPORTANT TOPICS and NIKETOWN: A NOVEL. His horror-action novel WORM ON A HOOK will arrive later this year.