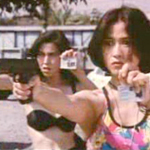 SATIN STEEL is a 1994 Hong Kong cops 'n martial arts movie that starts off as a bit of a LETHAL WEAPON rip-off, but with women. I wish the heroine was actually named Satin Steel, but instead her name is Jade (Jade Leung, BLACK CAT 1 and 2). Like Riggs, Jade is a maverick police detective with a death wish. And it opens with a similar (though smaller scale) undercover bust where she does something insane to get her collar (it involves a grenade).
She takes crazy risks because she's depressed that her husband was shot to death (and fell out a high window!) by assassins trying to kill her. We learn this when she's outside smoking and brooding to a bluesy soundtrack and she witnesses a wedding in progress. When her flashback ends she's holding her gun to her head. Luckily she snaps out of it, realizes she has caused a scene and goes over to congratulate the newlyweds, but in my opinion you can't really recover from a faux pas like that. That is just plain poor wedding etiquette, I don't care what the 2nd amendment says.
Although Jade is a cop who gets her man, she's obviously hard to deal with, so the boss takes a getting-rid-of-Chris-Tucker-in-RUSH-HOUR type glee in sending her to Singapore to investigate an international arms dealing ring. And something about the American mafia and diamonds and a guy that was involved in the World Trade Center bombing. (read the rest of this shit…)
VERN has a new action-horror novel out called WORM ON A HOOK! He has been reviewing movies since 1999 and is the author of the film criticism books Seagalogy: A Study of the Ass-Kicking Films of Steven Seagal and Yippee Ki-Yay Moviegoer!: Writings on Bruce Willis, Badass Cinema and Other Important Topics as well as the crime novel Niketown.