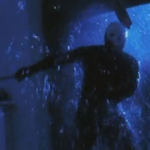 THE POOL is from 2001 and is one of these slick studio style slasher movies that came out because of SCREAM. I guess Australia got CUT and Europe got THE POOL. (I'm giving it to the whole continent because it's got British stars, takes place in Prague, and is a German production). It's another whodunit slasher, with the unknown killer in a skeleton mask and all black clothes stalking a group of rich kids who've broken into some rich person's extravagant swimming facility for an after-hours graduation party.
The opening is definitely modeled after the Drew Barrymore section of SCREAM, but instead of a teenager home alone it's a rich lady preparing for a dinner party. And she's more with-it than Drew: she goes right to the shotgun, and knows how to use it. But not well enough, obviously.
(read the rest of this shit…)
VERN has been reviewing movies since 1999 and is the author of the books SEAGALOGY: A STUDY OF THE ASS-KICKING FILMS OF STEVEN SEAGAL, YIPPEE KI-YAY MOVIEGOER!: WRITINGS ON BRUCE WILLIS, BADASS CINEMA AND OTHER IMPORTANT TOPICS and NIKETOWN: A NOVEL. His horror-action novel WORM ON A HOOK will arrive later this year.