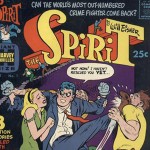 Yes, as you've heard by now, THE SPIRIT is a terrible movie. But don't fall into the trap I did. Just because almost everyone agrees that it's terrible doesn't mean it's funny or interesting to watch. I thought it looked bad from the trailers and really had no interest until I started seeing some of these reviews comparing it to various landmarks in bad movie history. The more vicious the reviews got the more I started to think shit, I kind of want to see that. People acted like it was some bizarre Ed Wood type shit that they couldn't believe they were seeing.
Well, there are a couple weird touches. For some reason Samuel L. Jackson's villain character, The Octopus, talks about eggs all the time. Seriously, he just keeps bringing them up – "I beat you like an egg," "I don't have egg on my face," etc. etc. It's worse than Tarantino's obsession with feet. Also there's a part where SPY KIDS style home computer effects depict a little tiny head attached to a foot that hops around on a table in front of him and he keeps saying it's "plain damn weird." I kind of wish writer/director Frank Miller was in the theater to experience the uncomfortable silence as the scene milked the "joke" over and over again for a couple minutes, clearly convinced it was hilarious. (read the rest of this shit…)
VERN has been reviewing movies since 1999 and is the author of the books SEAGALOGY: A STUDY OF THE ASS-KICKING FILMS OF STEVEN SEAGAL, YIPPEE KI-YAY MOVIEGOER!: WRITINGS ON BRUCE WILLIS, BADASS CINEMA AND OTHER IMPORTANT TOPICS and NIKETOWN: A NOVEL. His horror-action novel WORM ON A HOOK will arrive later this year.