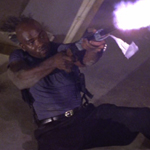 LOVE AND A BULLET was one of the movies that made me believe in DTV when I reviewed it for The Ain't It Cool News 16 years ago. I include that link only for historical purposes – it's a poorly written review and I randomly refer to co-writer/co-director Kantz as a "clown." I honestly didn't mean anything by it, I just thought it was funny to have hostility toward some guy for no reason. It never occurred to me that the people I was writing about might read the reviews, and I hadn't yet learned the lesson that shit like that can get you a wrestling challenge. Apologies to Kantz, whether or not he saw it. I have no reason to believe he is a clown.
At the time Ain't It Cool had run a bunch of my reviews of movies I'd seen at SIFF, and a few at preview screenings, plus these DTV or DTVish ones I'd gotten VHS screeners of:
THE CROW: SALVATION, CRUEL INTENTIONS 2, ED GEIN, GINGER SNAPS, VAMPIRES: LOS MUERTOS, COMIC BOOK VILLAINS (read the rest of this shit…)
VERN has been reviewing movies since 1999 and is the author of the books SEAGALOGY: A STUDY OF THE ASS-KICKING FILMS OF STEVEN SEAGAL, YIPPEE KI-YAY MOVIEGOER!: WRITINGS ON BRUCE WILLIS, BADASS CINEMA AND OTHER IMPORTANT TOPICS and NIKETOWN: A NOVEL. His horror-action novel WORM ON A HOOK will arrive later this year.