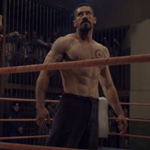 Well, unlike my first reviews of UNDISPUTED and UNDISPUTED II: LAST MAN STANDING, I'm perfectly happy with what I wrote when UNDISPUTED III: REDEMPTION was first released. So you can follow that link for what the movie's about and why it's great, plus my attempt to sell circa 2010 Ain't It Cool News readers on the works of Scott Adkins and Isaac Florentine, and the concept of DTV action in general. Still, on the occasion of part 4 coming to American video tomorrow I wanted to revisit part III for further analysis and appreciation.
I'd never watched it back-to-back with part II before. That really emphasizes the differences. Though I praised the J.J. Perry fight choreography in II, Larnell Stovall's work here is something to behold. More fights, longer takes with more consecutive moves, different styles (more throws and groundwork, and capoeira courtesy of Lateef Crowder). As much as I love and don't want to take away from the classics like KICKBOXER and BLOODSPORT that inspired movies like the UNDISPUTEDs, I think it's fair to say that the choreography and filming of martial arts sequences has gotten far more sophisticated since those days. (read the rest of this shit…)
VERN has a new action-horror novel out called WORM ON A HOOK! He has been reviewing movies since 1999 and is the author of the film criticism books Seagalogy: A Study of the Ass-Kicking Films of Steven Seagal and Yippee Ki-Yay Moviegoer!: Writings on Bruce Willis, Badass Cinema and Other Important Topics as well as the crime novel Niketown.