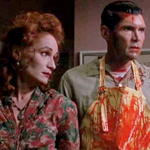 "Your father is one sick mother, you know that? Actually, your mother's one sick mother too."
I like THE PEOPLE UNDER THE STAIRS because it's Wes Craven's feverish impressionist portrait of American economic inequality circa 1991. It lacks the precise metaphoric aim and pulp effectiveness of THEY LIVE, but it's Craven's version of that same type of genre-film-as-angry-shout-at-The-Man.
In fact, one of the villains is even credited as "The Man" (Everett McGill, UNDER SIEGE 2: DARK TERRITORY). He and "The Woman" (Wendy Robie, THE GLIMMER MAN) own a big old house inherited from their family, living off of the rent from the "half of the ghetto" that they own. One of their tenants is our 13 year old protagonist Poindexter Williams (Brandon Adams, GHOST IN THE MACHINE – and this kid looks really familiar for some reason), who goes by the nickname Fool after the Tarot card of some joker trapped between a fire and a cliff. That's where he is now, because at his back is having to pay triple rent or get kicked out of the apartment so the Man and Woman can razed it and build condos, at his front is his sister's friend Spencer (Ving Rhames, FORCE OF EXECUTION) trying to pressure him into breaking into the slum lords' house to steal gold coins they can use to pay the rent and for mom's cancer treatment. (read the rest of this shit…)
VERN has been reviewing movies since 1999 and is the author of the books SEAGALOGY: A STUDY OF THE ASS-KICKING FILMS OF STEVEN SEAGAL, YIPPEE KI-YAY MOVIEGOER!: WRITINGS ON BRUCE WILLIS, BADASS CINEMA AND OTHER IMPORTANT TOPICS and NIKETOWN: A NOVEL. His horror-action novel WORM ON A HOOK will arrive later this year.