June 19, 1998
MULAN is the Disney animated feature of summer '98. It's another Broadway-style musical loosely based on an old tale, in this case the legend of Chinese warrior Hua Mulan, as described in The Ballad of Mulan. Fa Mulan – voiced by Ming-Na Wen (STREET FIGHTER), singing voice Lea Salonga (NINJA KIDS) – is a young woman in Han dynasty China in the midst of training to be a great warrior. Oh, whoops, that's a typo – in the midst of training to be a great wife. She gets all painted up and tries to walk in confining clothes and know all the etiquette for tea drinking and what not. But she's not up to it, even has to write notes on her hand before a test, and completely fucks it up.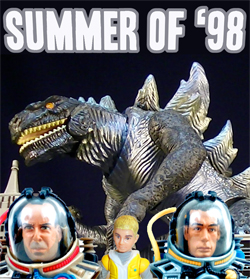 Luckily there is another option. The Huns are invading and every family must provide a man or boy to fight in the army. The only male in her family is her dad Fa Zhou (Soon-Tek Oh, STEELE JUSTICE, DEATH WISH 4), a war vet who is all for going again but he's an old man who can barely walk and she's sure he's gonna get fuckin killed in like two seconds so at night she steals his armor and conscription notice and runs off to pretend to be a dude and fight in the army on his behalf.
Which she's actually worse at than being feminine. There's lots of, you know, humor about how she says something in a normal voice and then says "er, I mean" and repeats it in a not even remotely convincing fake-masculine voice. She starts to pick up other things like to spit and do gross things to be accepted as a man. It's like JUST ONE OF THE GUYS I guess but when they see her boobs it's off screen. (read the rest of this shit…)
VERN has a new action-horror novel out called WORM ON A HOOK! He has been reviewing movies since 1999 and is the author of the film criticism books Seagalogy: A Study of the Ass-Kicking Films of Steven Seagal and Yippee Ki-Yay Moviegoer!: Writings on Bruce Willis, Badass Cinema and Other Important Topics as well as the crime novel Niketown.