July 10, 1998
SMALL SOLDIERS is an effects-driven, Spielberg-produced, released-on-July-10th sci-fi movie. But it's about killer toys (or at least potentially killer toys?) and the hero is a kid and it's not a CHILD'S PLAY movie (it's rated PG-13) so I'm not sure it was really seen as a movie for adults. To me and surely many others who saw it the exciting thing was that it was directed by Joe Dante, who hadn't had a film since MATINEE five years earlier. And with him and Spielberg doing a movie about a young man fighting out of control small things raising a ruckus in a small town, obviously everybody had visions of Gremlins chomping on their heads.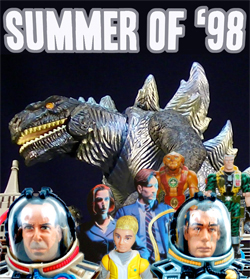 Alan (Gregory Smith, HOBO WITH A SHOTGUN) is a maybe 14 year old kid who works at his dad (Kevin Dunn, MARKED FOR DEATH, also in GODZILLA, ALMOST HEROES and SNAKE EYES that summer)'s toy store, one of those ones that only sells wooden blocks and airplanes and shit, nothing based on cartoons or movies (so there's not an anti-GODZILLA in-joke here). His dad actually has a specific "no war toys" policy. But one day his friend the delivery driver (Dick Miller, of course) has another store's shipment of new high tech talking action figures called the Commando Elite. Alan thinks they would sell better than Lincoln Logs or whatever and convinces him to let him take a set. (read the rest of this shit…)
VERN has a new action-horror novel out called WORM ON A HOOK! He has been reviewing movies since 1999 and is the author of the film criticism books Seagalogy: A Study of the Ass-Kicking Films of Steven Seagal and Yippee Ki-Yay Moviegoer!: Writings on Bruce Willis, Badass Cinema and Other Important Topics as well as the crime novel Niketown.