July 24th, 1998
is when SAVING PRIVATE RYAN came out. I wrote about that a while back. Here's a review of a different movie that came out that day.
I don't consider DISTURBING BEHAVIOR a very good movie, and I'm not aware of anybody it's meaningful to, but in a certain way it's a decent time capsule of where we were at in 1998. The gloomy drizzle and ferries made me wonder if fictional Cradle Bay, filmed in Vancouver, B.C., was meant to evoke Washington state. It would be fitting, because it sort of plays like the disaffection of the so-called grunge scene trickling out in late '90s teen sci-fi, like chemicals that were spilled into a sewer, overflowed into the Sound, made their way into the plants growing along the shore and were eaten and shat out by animals.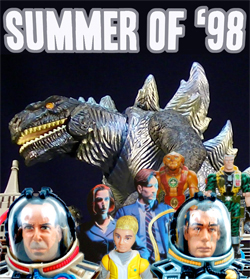 Steve (James Marsden, ACCIDENTAL LOVE) is the new kid in school, moved into town eight months after the trauma of his brother (Ethan Embry from CAN'T HARDLY WAIT)'s suicide. In the cafeteria, stoner outcast Gavin (Nick Stahl, MIRRORS 2) appoints himself rope-show-er and gives him an elaborate take on that time honored teen movie trope, the explanation of all the school's cliques. Screenwriter Scott Rosenberg (BEAUTIFUL GIRLS, CON AIR, ARMAGEDDON, HIGHWAY, PAIN & GAIN) seems to be going for a cross between Shakespeare and Daniel Waters, in my opinion missing the mark on both. He uses a structured format where Gavin lists the awkwardly named groups ("Blue Ribbons," "Micro Geeks"), describes them, says their "drug of choice," and then his spaced out sidekick U.V. (Chad Donella, FINAL DESTINATION, TAKEN 3) makes a rhyme about what kind freak they are: "freaks who fix leaks," "freaks who squeak," "freaks in sneaks."
VERN has a new action-horror novel out called WORM ON A HOOK! He has been reviewing movies since 1999 and is the author of the film criticism books Seagalogy: A Study of the Ass-Kicking Films of Steven Seagal and Yippee Ki-Yay Moviegoer!: Writings on Bruce Willis, Badass Cinema and Other Important Topics as well as the crime novel Niketown.