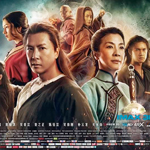 Okay, so admittedly it's weird that 17 years after the acclaimed, Academy Award winning CROUCHING TIGER, HIDDEN DRAGON, The Weinstein Company up and made a sequel without the original director. And filmed it in English. And sold it to Netflix so it was barely released in theaters and may never be available on disc in most countries. It's not surprising that people seem to have been disappointed, or just confused, or completely unaware of it. But if we think of it in terms of unlikely DTV sequels, CROUCHING TIGER, HIDDEN DRAGON: SWORD OF DESTINY is in the upper echelon.
No, the director is not Ang Lee, but it's not nobody either – it's Yuen Woo-Ping, whose choreography was the life's blood of the first film. I wouldn't say he tops it here, but he brings more graceful glides, spinning swords and nimble roof top skips and hops. It's worth noting that today's technology is used to create more elaborate magical realism, like when the two leads ride in on horses, block a barrage of spears, leap high into the air, land and begin a sword fight, all in one beautiful shot. (read the rest of this shit…)
VERN has a new action-horror novel out called WORM ON A HOOK! He has been reviewing movies since 1999 and is the author of the film criticism books Seagalogy: A Study of the Ass-Kicking Films of Steven Seagal and Yippee Ki-Yay Moviegoer!: Writings on Bruce Willis, Badass Cinema and Other Important Topics as well as the crime novel Niketown.