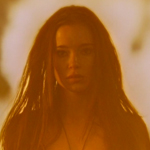 aka FIRESTARTER 2: REKINDLED
After watching FIRESTARTER for the first time since the '80s I sorta remembered there being some kind of a FIRESTARTER 2 made during this century. I am a completist by nature (see my week of CARRIE movies for evidence) and I thought that might be good for a laugh, so I settled in to watch it real quick. Imagine my surprise when, early in the movie, I checked the running time and saw that it was 2 hours and 48 minutes! What I thought was just a DTV sequel was actually a Sci-Fi Channel mini-series (this is in the old, spelling accurate days before SyFy).
I guess technically this is a sequel to the book, not to the movie, because they have flashbacks to scenes from the movie and they're reshot with Skye McCole Bartusiak (24) as Charlie, Aaron Radl as her dad and Karrie Combs (BRIDE OF KILLER NERD) as her mom. But mainly we have Charlie played by Marguerite Moreau (the MIGHTY DUCKS trilogy, FREE WILLY 2, WET HOT AMERICAN SUMMER). She's all grown up and keeps a fire extinguisher under her bed for those nights when bad dreams set her bed ablaze. Living under a fake identity, she works at the Millington College academic archive, where she's trying to uncover information about her dead parents and the experiment that started her firestarting. (read the rest of this shit…)
VERN has been reviewing movies since 1999 and is the author of the books SEAGALOGY: A STUDY OF THE ASS-KICKING FILMS OF STEVEN SEAGAL, YIPPEE KI-YAY MOVIEGOER!: WRITINGS ON BRUCE WILLIS, BADASS CINEMA AND OTHER IMPORTANT TOPICS and NIKETOWN: A NOVEL. His horror-action novel WORM ON A HOOK will arrive later this year.