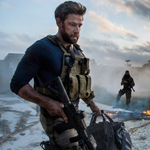 13 HOURS: THE SECRET SOLDIERS OF BENGHAZI is Michael Bay's movie about the deadly September 11th, 2012 attacks on the American consulate and CIA outpost in Benghazi, Libya. That sounds like a terrible joke – one of Hollywood's most bombastic, least thoughtful directors tackling a recent (and highly politicized) tragedy. And I'm not totally sure whether he's thinking of this more like a cool action movie or his version of a BLACK HAWK DOWN/ZERO DARK THIRTY. (I'd guess the second one.) But I have to say he did a better job than I thought he would.
John Krasinski (JARHEAD) plays Jack Silva, a former Navy SEAL hired to help out a small group of special ops guys working at a secret CIA base in Benghazi to snatch up grenade launchers and other weapons floating toward the black market after the fall of Gaddafi. Five weeks after he gets there the consulate about a mile away is attacked by a mob of militants, and Jack and friends want to help. And sort of feel like they have to, because there's no one else to do it.
The appeal to Bay, and of the movie, is the portrayal of these soldiers, their professionalism and heroism, their drive to use their unique skills in a hugely uphill battle, even when they're (according to the movie) told to stay out of it. From THE ROCK to the TRANSFORMERSes, Bay has always had a fascination with these types of elite soldiers. He's good at casting big, manly looking dudes and having them throw out the lingo and sling the hardware around and seem like they've been doing the job forever. Krasinski is buffed up (he has one scene to really showcase his six pack) and everybody has a shaggy beard and a sweaty forehead, of course. (read the rest of this shit…)
VERN has been reviewing movies since 1999 and is the author of the books SEAGALOGY: A STUDY OF THE ASS-KICKING FILMS OF STEVEN SEAGAL, YIPPEE KI-YAY MOVIEGOER!: WRITINGS ON BRUCE WILLIS, BADASS CINEMA AND OTHER IMPORTANT TOPICS and NIKETOWN: A NOVEL. His horror-action novel WORM ON A HOOK will arrive later this year.