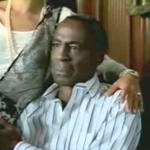 A year before TALES FROM THE HOOD was a black Tales From the Crypt, the Hudlin brothers' HBO TV movie COSMIC SLOP was "a multi-cultural Twilight Zone." Even if the VHS cover didn't have a Chicago Tribune quote calling it that, you'd get the idea from the intro, when a trail of terrible 2D computer animated objects (basketball, rolling pin, chair, bust of Beethoven, electric guitar, bra, asterisk) float in under George Clinton's familiar "free your mind and your ass will follow" narration and a re-recording of the 1973 Funkadelic song that the title comes from.
It's even lower budget than TALES and much cheesier, with crude, video toaster style digital effects. It's clearly a pilot for a show they decided not to make, but it's another admirable attempt to bring a different perspective to the tradition of short genre stories that explore social issues.
Clinton's disembodied head floats in, on fire, a blinking animatronic third eye on his forehead, and morphs between different hairstyles as he cryptically Rod Serlings a trio of stories with his cryptic afro-futurist catch phrases. (read the rest of this shit…)
VERN has a new action-horror novel out called WORM ON A HOOK! He has been reviewing movies since 1999 and is the author of the film criticism books Seagalogy: A Study of the Ass-Kicking Films of Steven Seagal and Yippee Ki-Yay Moviegoer!: Writings on Bruce Willis, Badass Cinema and Other Important Topics as well as the crime novel Niketown.