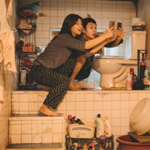 This is a rare one for me: I saw PARASITE having no clue what it was about at all. Completely fresh. I saw the trailer 1 (one) time and didn't understand what was going on. But I liked the three movies I've seen by director Bong Joon-ho (SNOWPIERCER) enough to just take the hype at its word and go see it. And since two of those movies (THE HOST and OKJA) are strange creature movies I honestly didn't even know if the title was a metaphor or if there was also going to be an actual parasitic monster at some point.
Anyway it's not a huge surprise twist movie or anything, but I enjoyed the lack of expectations. So I guess only read this if you've seen it or don't care about that. (contains spoilers, mostly vague.)
It's the story of the Kim family – father Ki-taek (Song Kang-ho, THE GOOD, THE BAD, THE WEIRD), mother Chung-sook (Jang Hye-jin), son Ki-woo (Choi Woo-shik, TRAIN TO BUSAN) and daughter Ki-jeong (Park So-dam, THE SILENCED) – who seem to take economic struggle in stride. They live together in a cluttered basement infested by stink bugs, with a window facing an alley where they often see a drunk guy peeing. In the opening scene they discover that their neighbor added a password to her wi-fi, but they can connect to a nearby cafe if they crawl into the top corner of the apartment on the raised platform with the toilet. Which is important because they need WhatsApp to communicate with the young manager of Pizza Generation (Jung Yi-seo) who pays them to fold boxes. (read the rest of this shit…)
VERN has a new action-horror novel out called WORM ON A HOOK! He has been reviewing movies since 1999 and is the author of the film criticism books Seagalogy: A Study of the Ass-Kicking Films of Steven Seagal and Yippee Ki-Yay Moviegoer!: Writings on Bruce Willis, Badass Cinema and Other Important Topics as well as the crime novel Niketown.