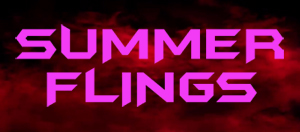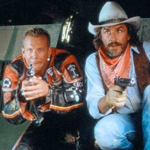 August 23, 1991
Dump all the macho pop culture of the '80s – movies, TV shows, music videos, beer and cigarette ads, wrestling – into a strainer, shake it around, and the chunks you got left are HARLEY DAVIDSON AND THE MARLBORO MAN, a buddy-action movie that plays at first like a satire of, but then maybe a tribute to, our basest ideals of masculinity.
It starts with a disclaimer that no, this is not affiliated with the two products it's named after. The title characters are not supposed to be advertising mascots come to life, some weird meta thing like FOODFIGHT!. It's tempting to think so, though, when you see them sitting on billboards, Harley (Mickey Rourke, DOUBLE TEAM) always wearing his patch-covered motorcycle jacket, Marlboro (Don Johnson, DEAD BANG) his cowboy gear, cigarette dangling from his lip (though he supposedly quit).
It's more like it takes place in a pure world of action movie tropes. In the first 10 minutes there's both an interrupted convenience store robbery and a bar brawl. (Marlboro, being a cowboy, has a disagreement with some Native Americans at the pool table.) They drive motorcycles and leave women naked in hotel beds without saying goodbye. They start in Amarillo and Colorado is mentioned but for the most part their whole world seems to be Las Vegas, L.A. and the dusty desert roads (and train tracks) between them. (read the rest of this shit…)
VERN has been reviewing movies since 1999 and is the author of the books SEAGALOGY: A STUDY OF THE ASS-KICKING FILMS OF STEVEN SEAGAL, YIPPEE KI-YAY MOVIEGOER!: WRITINGS ON BRUCE WILLIS, BADASS CINEMA AND OTHER IMPORTANT TOPICS and NIKETOWN: A NOVEL. His horror-action novel WORM ON A HOOK will arrive later this year.