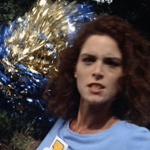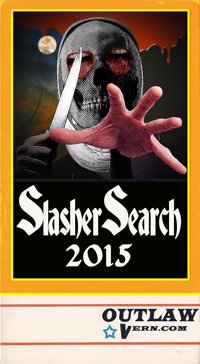 CHEERLEADER CAMP was supposed to be called BLOODY POM POMS, which makes more sense. The title the distributors chose doesn't get across that it's a horror movie. I'm sure they rejected a million titles that would've worked, too. SCREAM SPIRIT, SKIRTS OF BLOOD, GO SCREAM GO, GIMME AN AAAAAAGGGGGH, etc.
Anyway, it's a pretty routine slasher movie that takes itself seriously but with some of the '80s sex comedy stuff the title implies used as comic relief. A van full of cheerleaders head to Camp Hurrah for a cheerleading outing and competition, the two males are super horny and trying to get laid all the time, etc.
It's kind of an A-Team of B-actresses. Betsy Russell (AVENGING ANGEL) plays Alison, sort of the protagonist and probable Final Girl because she keeps having symbolic nightmares about death and cheerleading, including ones where she gets slashed by razor sharp pom poms, and one where she joins the squad in cheering her boyfriend Brent (disco star Leif Garrett) as he has sex with Teri Weigel (MARKED FOR DEATH, PREDATOR 2, lots of porn). And then you have Lorie Griffin (TEEN WOLF), Rebecca Ferratti (GOR, GOR II, CYBORG 3, HARD VICE), and most importantly Lucinda Dickey (NINJA III: THE DOMINATION) plays Cory, the team mascot. She doesn't really fit in and the bitchy camp director Miss Tipton (Vickie Benson, doing a broad Troma or John Waters type acting style like she's in a different movie than the others) has it in for her, forcing her to wear her alligator mask while she eats.
(read the rest of this shit…)
VERN has been reviewing movies since 1999 and is the author of the books SEAGALOGY: A STUDY OF THE ASS-KICKING FILMS OF STEVEN SEAGAL, YIPPEE KI-YAY MOVIEGOER!: WRITINGS ON BRUCE WILLIS, BADASS CINEMA AND OTHER IMPORTANT TOPICS and NIKETOWN: A NOVEL. His horror-action novel WORM ON A HOOK will arrive later this year.