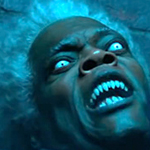 MISS PEREGRINE'S HOME FOR PECULIAR CHILDREN takes place in a quirky, goth-y world of young outcast monsters, a story for young people who enjoy the macabre, a premise that sounds like X-MEN but plays more like THE ADDAMS FAMILY. It seems tailor made for a Tim Burton comeback film. Maybe that's the problem. Maybe he needs to find something off the rack that looks good on him. No, actually that's probly what he did here. Maybe he needs to sew something himself. I don't know. This metaphor got away from me.
Asa Butterfield (HUGO) plays Jake, our protagonist and first person narrator, who lives a boring life in a Scissorhandsian Florida suburb until one day he finds his Grandpa (Terence Stamp, ELEKTRA, THE PHANTOM MENACE) dead in the woods with his fucking eyeballs plucked out. (The police soothe him by explaining that dogs ate 'em.) Also he sees a giant.
Kinda like BIG FISH, he finds himself tracing the seemingly-fantastical tales Grandpa told him and left behind in letters, journals, photos and maps. (Burton has been past his prime long enough that he's harkening back to movies from past his prime.) He convinces his dad (Chris O'Dowd, CALVARY) to bring him to Wales to see this children's home where Grandpa once lived. (read the rest of this shit…)
VERN has a new action-horror novel out called WORM ON A HOOK! He has been reviewing movies since 1999 and is the author of the film criticism books Seagalogy: A Study of the Ass-Kicking Films of Steven Seagal and Yippee Ki-Yay Moviegoer!: Writings on Bruce Willis, Badass Cinema and Other Important Topics as well as the crime novel Niketown.