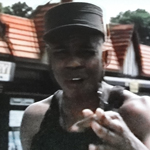 LET'S GET BIZZEE is a 1993 indie movie starring Doug E. Fresh, famed rapper, beatboxer and chief executive officer of The Get Fresh Crew. That's right, it's a Doug E. Fresh vehicle. Do you remember something like that ever existing? I don't. But it does, preserved forever on VHS.
After seeing it, though, I understand why nobody ever talks about it. It has the dramatic quality of some crappy comedy like DISORDERLIES or something, but there aren't many jokes in it, and zero that are funny. I think it might be intended as a serious drama about local politics.
Fresh – who now goes as D. Edward Fresh (I totally made that up) – plays Sam Baker, a kid who has just graduated high school. His mom says he needs a job and his ex-girlfriend says she needs $2,000 or she's gonna tell his mom he has a baby. Meanwhile, the womanizing, limo-riding assemblyman Dillon (Anthony Chisholm, UP TIGHT, 13, CHI-RAQ) has made a deal to allow the projects to be destroyed and turned into condominiums. Sam is against it and does a little rap about it in the park, which leads to him hanging with a few local activist types and starting a petition against it. (read the rest of this shit…)
VERN has a new action-horror novel out called WORM ON A HOOK! He has been reviewing movies since 1999 and is the author of the film criticism books Seagalogy: A Study of the Ass-Kicking Films of Steven Seagal and Yippee Ki-Yay Moviegoer!: Writings on Bruce Willis, Badass Cinema and Other Important Topics as well as the crime novel Niketown.